While I am off for my son's wedding, I will be sharing posts from some of my blogging buddies
.
Today I am thrilled to introduce you to Faith from
Faith is pretty much a newlywed and,
expecting a new baby in December!
You all know

I

am a sucker for

new babies!
What else am

I am a sucker for?
Pumpkin anything and today
Faith

is sharing her easy recipe
for Pumpkin Spice Cupcakes!
Hey there! I'm Faith and I blog at The Life Of Faith!
I am honored to be guest posting for Kathe today! I love her blog and I have loved getting to know her.
In my little corner of the blogging world, I share everything from faith, marriage, and family, to my latest recipes and crafts! Oh and I can't forget my new favorite topic...my baby girl!
I am almost 7 months pregnant with my first baby and couldn't be more excited!
Now I'm no Betty Crocker here, but I do love a good recipe. When I find one that is exceptionally easy and yummy (my 2 qualifications for a recipe), I share it!
Since it's fall, it couldn't be more fitting for me to share with you my favorite FAVORITE pumpkin recipe. It might be my favorite because it's so easy, but you be the judge!
All you need is one box of Spice Cake Mix, a can of pumpkin...and icing! Sound too easy? That's what I'm sayin! But they were yummy. I promise:)
Here's how it's done:
1. Mix the can of pumpkin with the cake mix and leave out the eggs and oil that the original mix calls for.
2.
Spoon the batter into some cute fall cupcake liners or greased muffin pan.
3. Bake at 350 for 20 minutes.
4. Let them cool
5. Sprinkle with powder sugar or frost with cream cheese icing like I did for a festive holiday dessert that everyone will love!
While your cupcakes are baking, I hope you will stop by and follow along with all of my newlywed, pregnancy, crafting, and other homemaking adventures at The Life Of Faith!
Thanks again Kathe for letting me be your guest!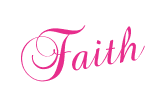 Colossians 3:17
And whatever you do, whether in word or deed, do it all in the name of the Lord Jesus, giving thanks to God the Father through him.